Concept
---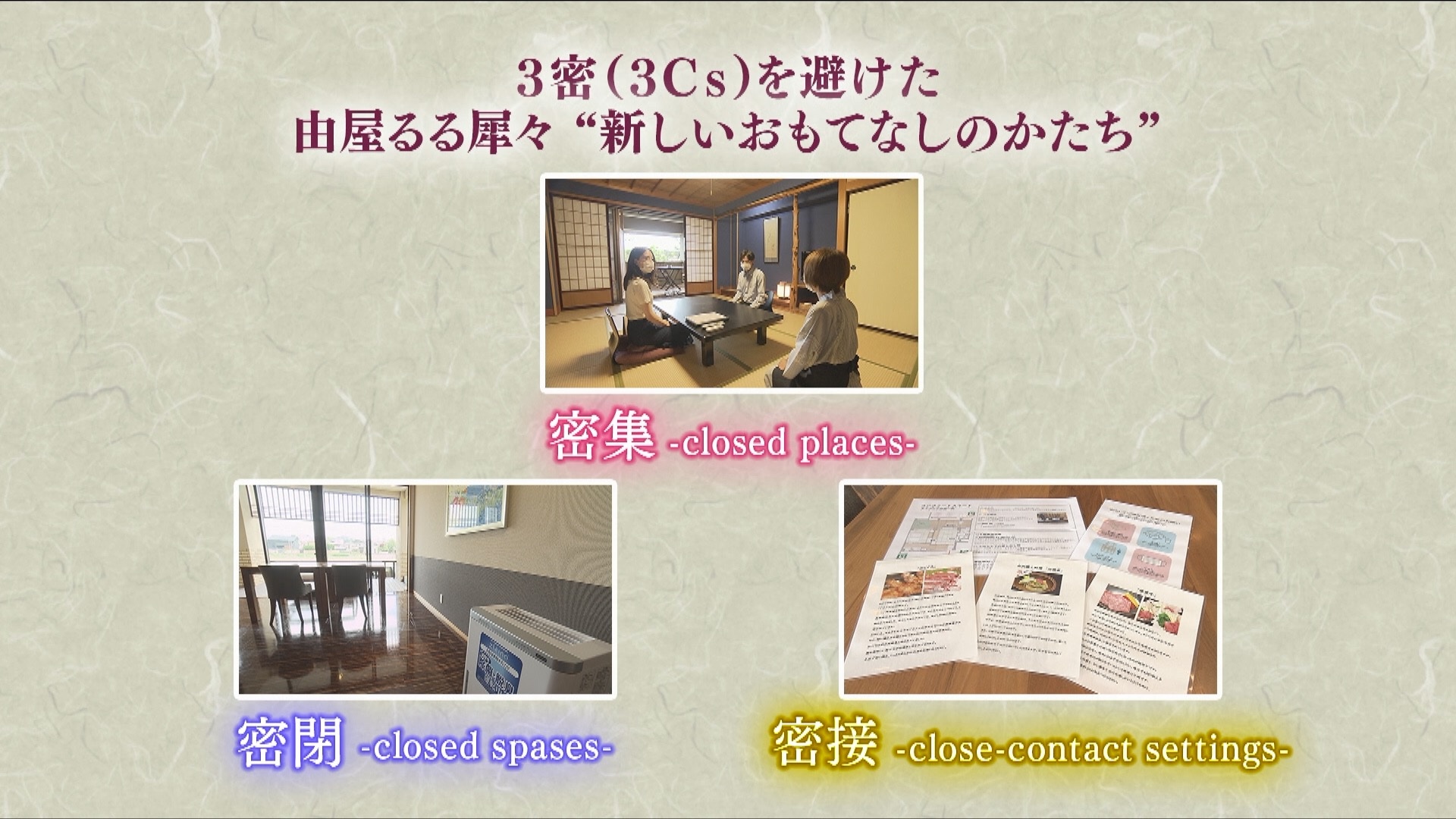 ---
Here at Yuya-Ruru-Saisai, we ensure thorough measures for infection prevention are taken without compromising that exclusive feeling of travel, and aim to create an environment where our guests can relax with peace of mind.

With the changes we have had to undertake in this time, we have created a New Hospitality Policy on top of the basic measures of checking temperatures and careful disinfection, on the parts of both our staff and guests, based on Covid-19 countermeasure guidelines.
The New Hospitality Policy is built on preventing "crowded," "enclosed," and "close,"spaces -- providing further efficiency in infection prevention.
What the New Hospitality Policy entails:
---
Crowded places
---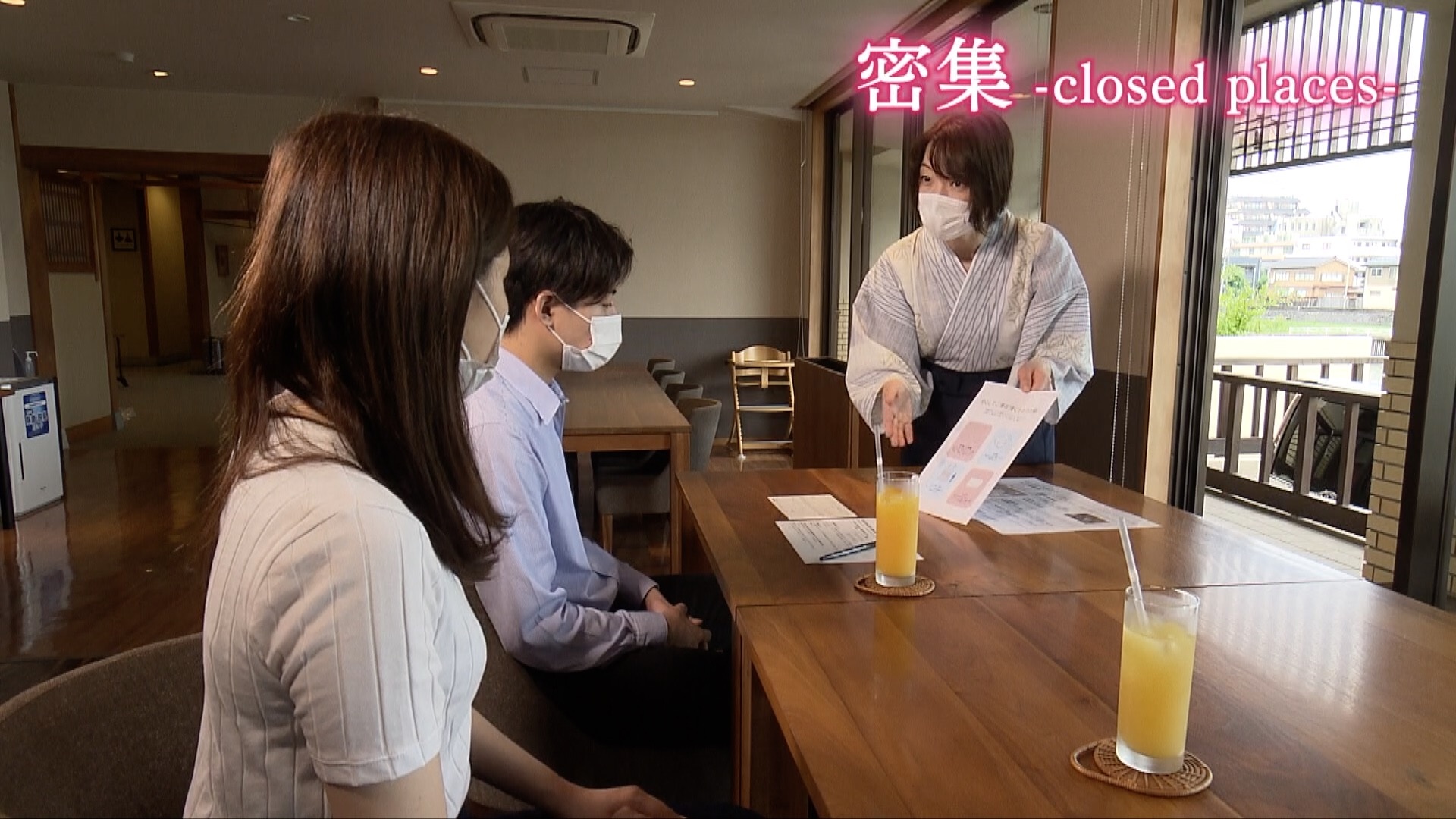 ---
Preventing Crowded Spaces
To prevent crowding and close quarters, guests will be able to check-in at the restaurant and lobby.
Here, guests can take a few moments to relax and take in the ambiance while enjoying a drink and refreshments.
For guests who would prefer to avoid further interaction during check-out, you are welcome to pay for your stay during check-in.
When checking out, we ask that a representative from each party manage the check-out at the counter while the rest of your party waits in the lobby.
---
Closed spaces
---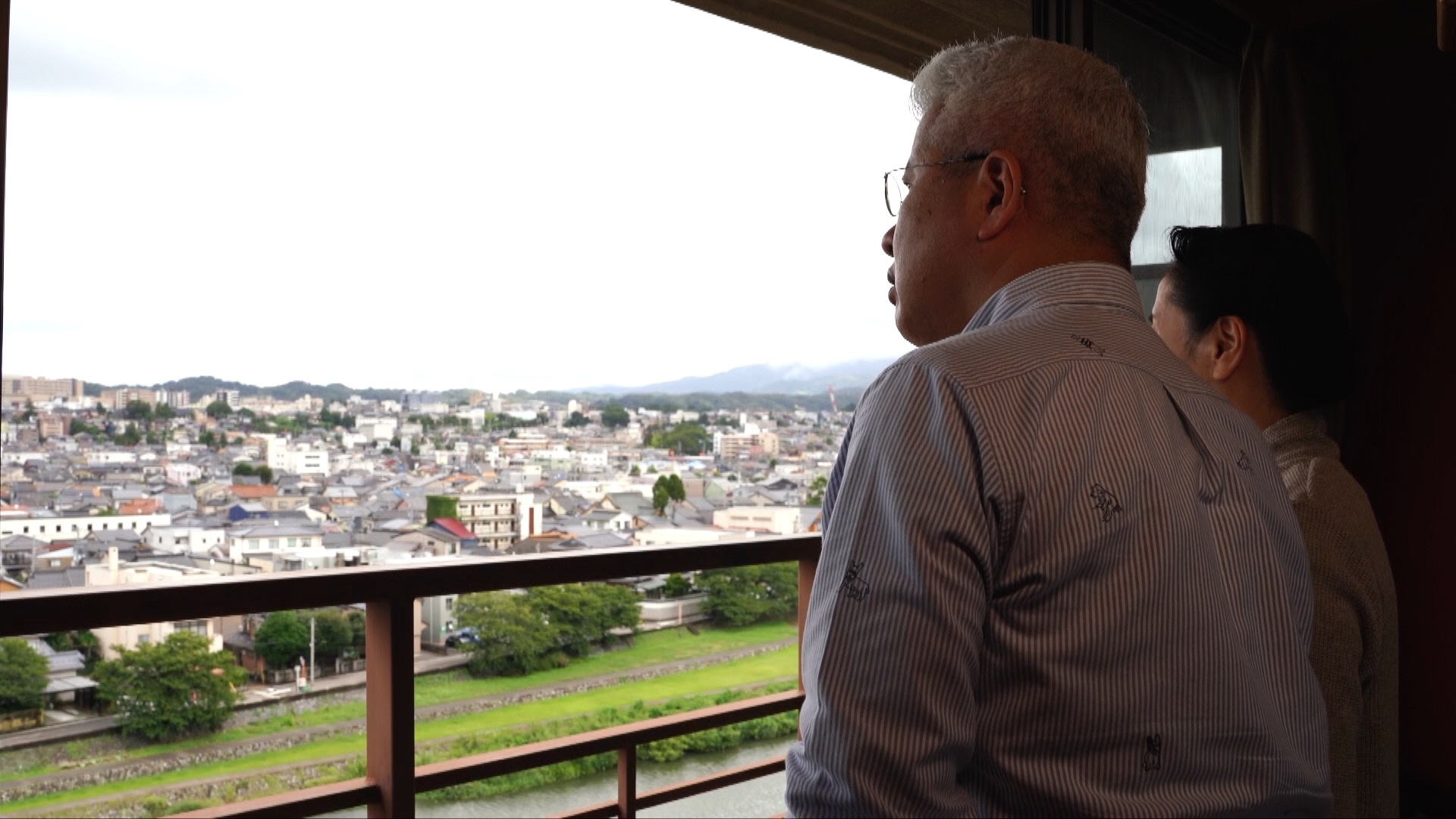 ---
Preventing Enclosed Spaces
All of our rooms at Yuya-Ruru-Saisai face the Sai River.
Nature provides a natural ventilator and guests can open the windows to enjoy the incoming river breeze.
The windows of the communal baths can also be opened for guests to enjoy the fresh air and uninhibited view.
---
---
All of the room windows are installed with screens to keep any small visitors out.
The communal areas of the hotel are equipped with sterilizing air purifiers.
We ask guests to occupy the elevators only with members of their own party. We apologize in advance for any inconvenience this may cause.
---
Close-contact settings
---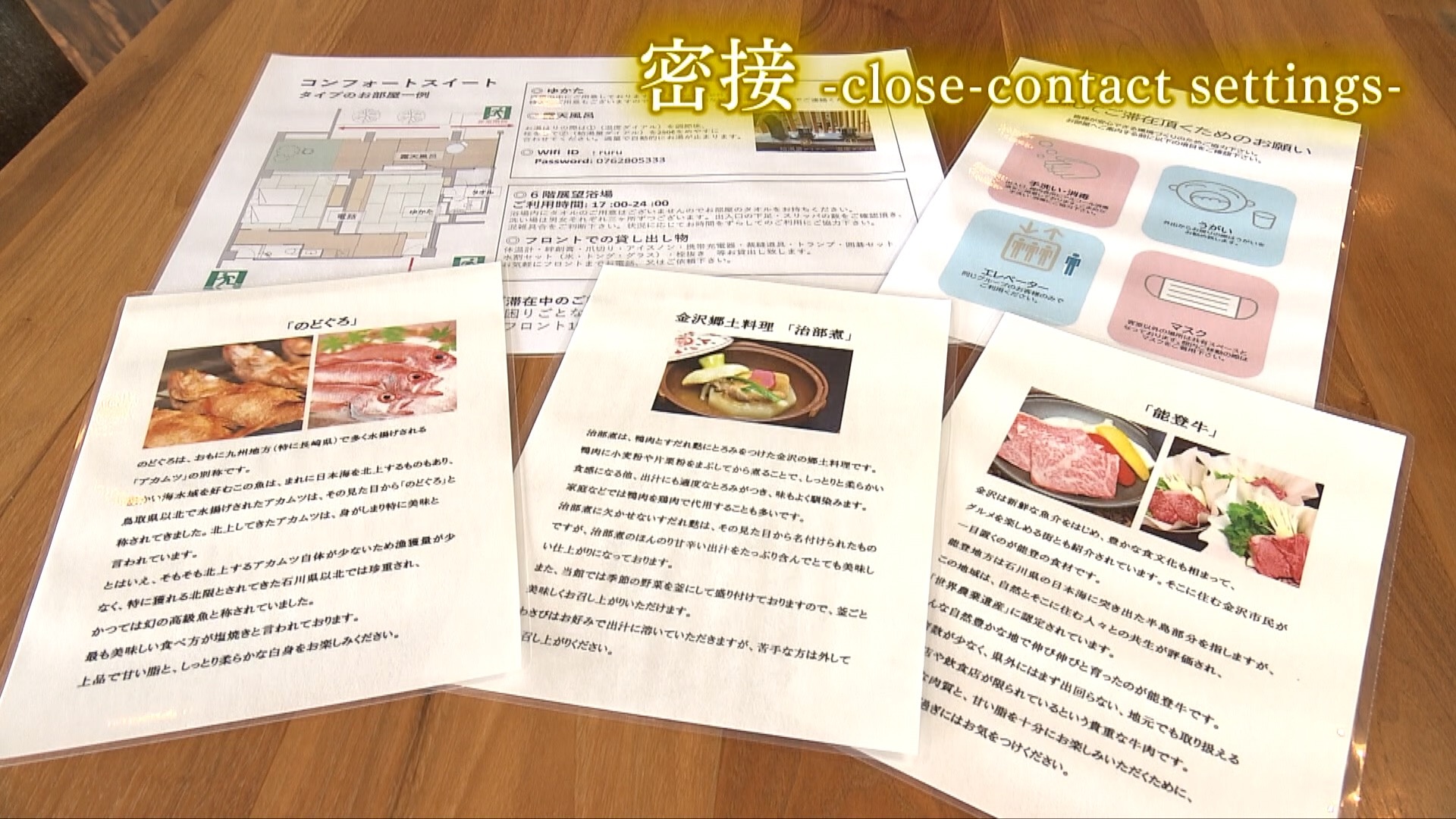 ---
Preventing Close Quarters
The time we spend with our guests is the foundation of our hospitality.
Because of the changes we have had to make we are, sadly, unable to spend as much time in-person with our guests as we would like.
To ensure the safety and comfort of our guests, we have provided visual aids to help guide you in and around the hotel and rooms, as well as descriptions of the meals prepared for you.

Food is an essential part of travel and we place much importance in our cuisine, as we expect it to be a highlight for our guests to look forward to.
While we have previously introduced each dish in-person when being served, we have provided pictures in order to decrease the amount of interaction.
---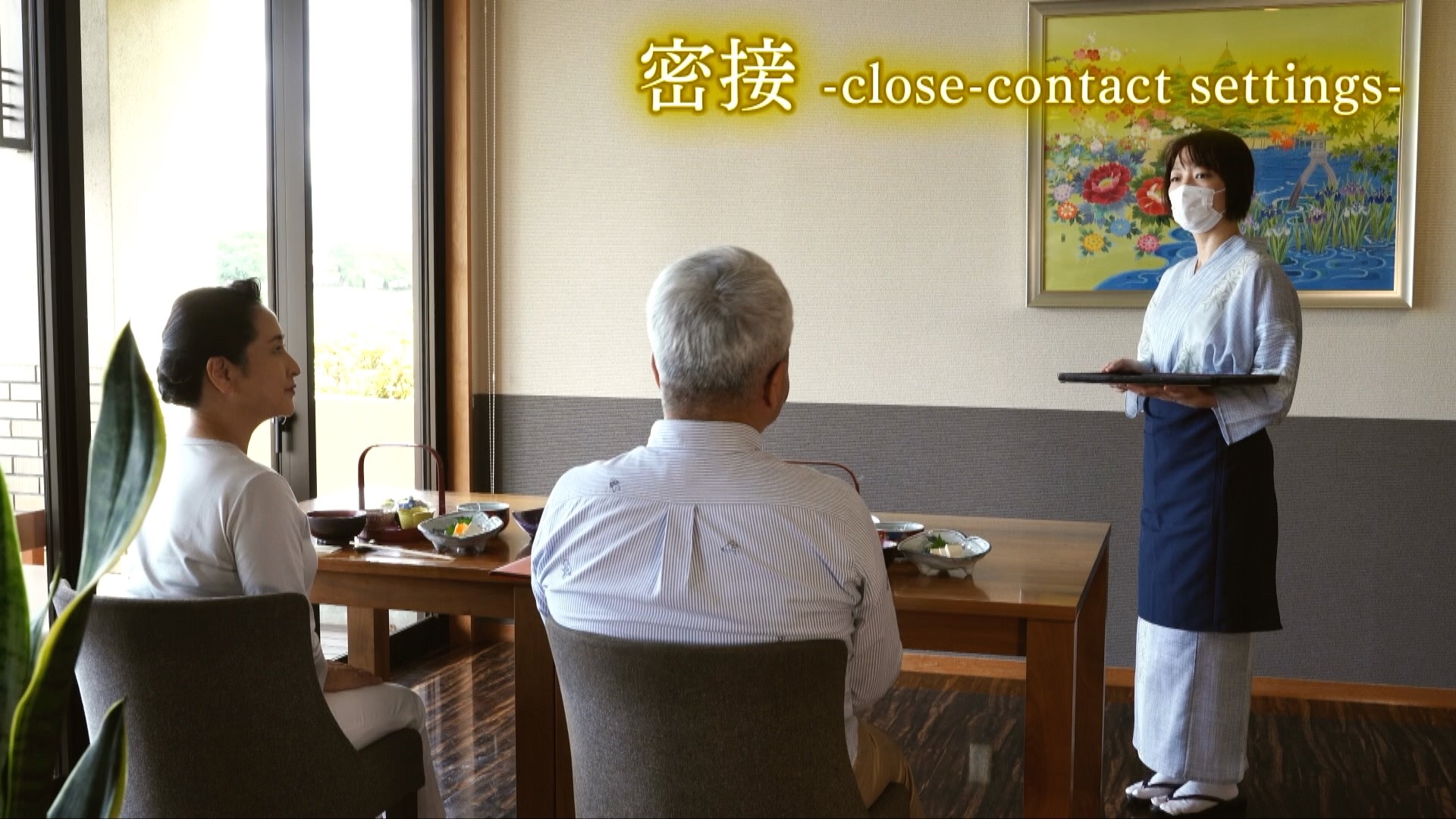 ---
We hope to make up for the lack of interaction with our guests in other ways such as providing additional information on our seasonal cuisine that you may further enjoy your meal, recommendations on your itinerary, or memorable conversations. We heartily look forward to the time we will spend with you, however little that may be.

When we do interact with our guests, we make sure we take into consideration the length of interaction as well as maintaining a safe distance with our guests who have taken off their masks during meals to ensure their comfort and safety.
---
Finally
---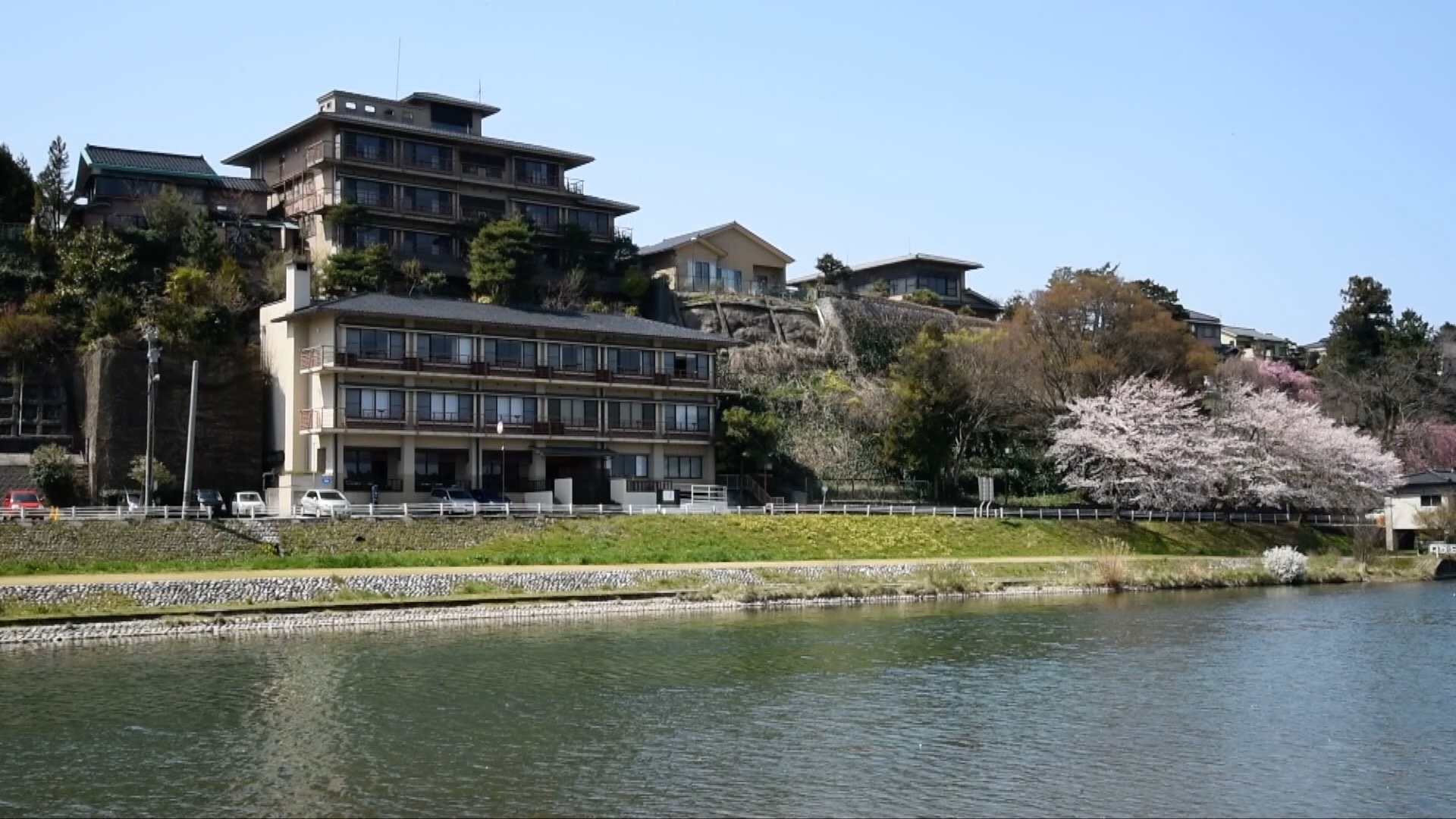 ---
Our New Hospitality Policy is not only in regards to Covid-19, but are steps to protect our guests who mean so much to us, as well as our staff, from any infection.

In order to ensure the efficacy of the measures, we are committed to adhering to the policy, and ask our guests for their cooperation in doing their part in preventing infection by making sure to wear face masks when in the common areas, disinfecting their hands, and taking precaution such as avoiding enclosed spaces.

Even in a less than ideal situation, it is our sincere hope that the time you spend here can help you escape and forget your stresses.
We await your visit and to give you the hospitality that Yuya-Ruru-Saisai provides.
---
Our measures for infection prevention Video
---
---